Through the Decades
1937 - National College Basketball Tournament
The seed of the NAIA began in 1937 with the tipoff of the National College Basketball Tournament in Kansas City, Mo. at Municipal Auditorium. 8 teams competed for the title. Central Missouri beat Morningside (Iowa) 35-24 to be crowned the first national champion.
---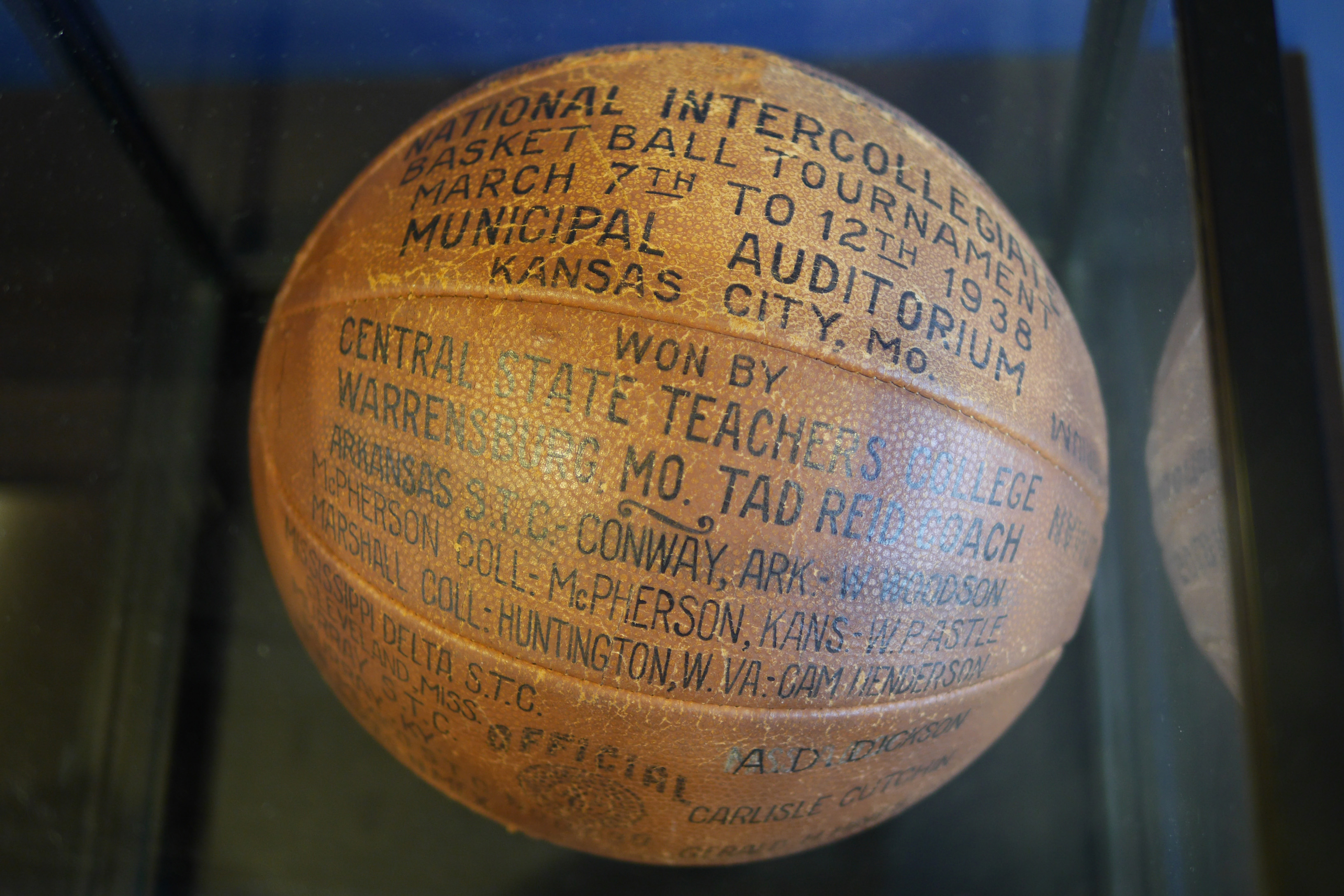 1938 - 32-Team Format
In 1938, the National Intercollegiate Basketball Tournament expanded to its long-standing 32-team format.
---
1939 - Parade of Champions
The Parade of Champions tradition started at the 1939 National Intercollegiate Basketball Tournament and is a tradition that still takes place at NAIA Championships today. The long-standing tradition honors and recognizes all the teams competing in the national championship.
---
1940 -
National Association of Intercollegiate Basketball (NAIB) Formed
On Sunday, March 10, 1940, Emil Liston and other KC leaders that were attending the national tournament met at Hotel Phillips to discuss taking the tournament beyond its current state - leading to the formation of the National Association of Intercollegiate Basketball.
---
1948 - First African American Student-Athlete
Clarence Walker, reserve guard for head coach John Wooden's Indiana State Sycamores, broke the color barrier in collegiate basketball by becoming the first African American to play in a #collegebasketball national championship at any level on March 9, 1948, at Municipal Auditorium.
---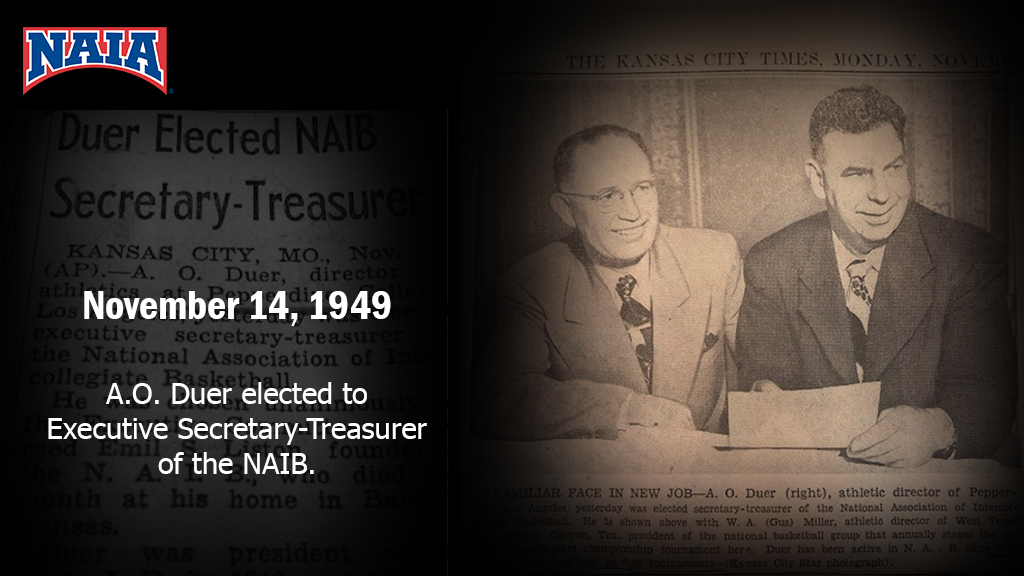 1949 - Duer Elected NAIB Executive Secretary-Treasure
After the sudden death of Emil S. Liston, founder and first executive secretary of the NAIB, A.O. Duer was elected unanimously by the executive committee to be the new NAIB Executive Secretary-Treasurer on November 14, 1949. Duer went on to lead the association for 26 years.
---
1952 - NAIA formed
The NAIB, once known as a basketball organization, expands into an athletic association by adding national championships in track, golf & tennis. The NAIB becomes the National Association of Intercollegiate Athletics (NAIA) in 1952.
---
1952- Clarence "Bevo" Francis
Clarence "Bevo" Francis, played two years at Rio Grande (1952-54) before he went on to play professionally in @nba for the Philadelphia Warriors. As an NAIA student-athlete, he scored 116 points in one single game, 113 in another and assisted his team to a perfect 39-0 season.
---
1953- Historically Black Institutions Invited into NAIA Membership
In 1953, the NAIA becomes the first collegiate athletics association to invite historically black colleges & universities (HBCUs) into membership. Tennessee State upset North Carolina College for the honor of being the first HBCU to compete in the national tournament. The Kansas City fans attending the 1953 tournament gave Tennessee State a warm welcome.
---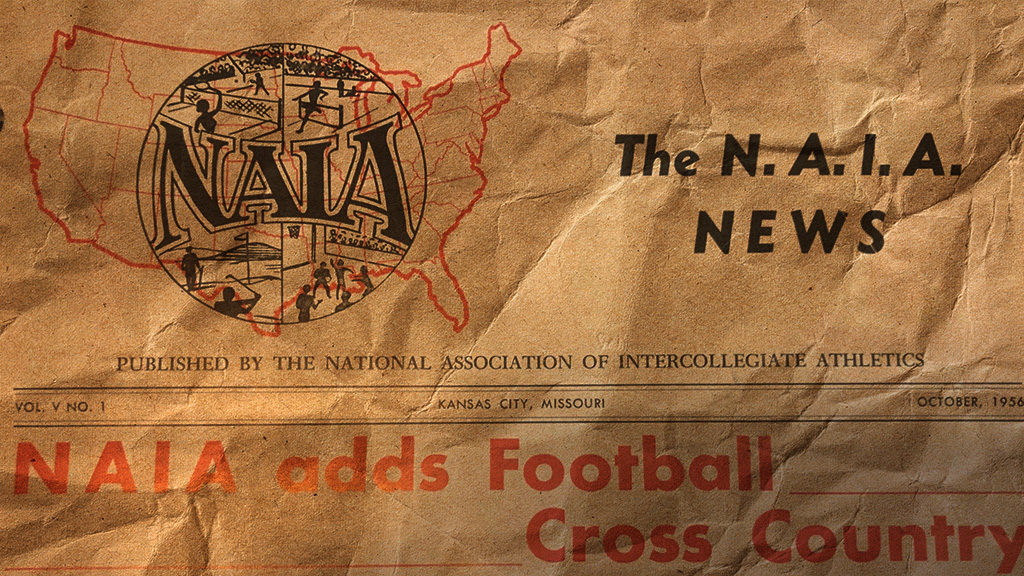 1956 - 8 Championships Added
The NAIA expanded to a total of (8) eight national championships in the 1956-57 school year, by adding football, cross country, baseball & swimming & diving.
---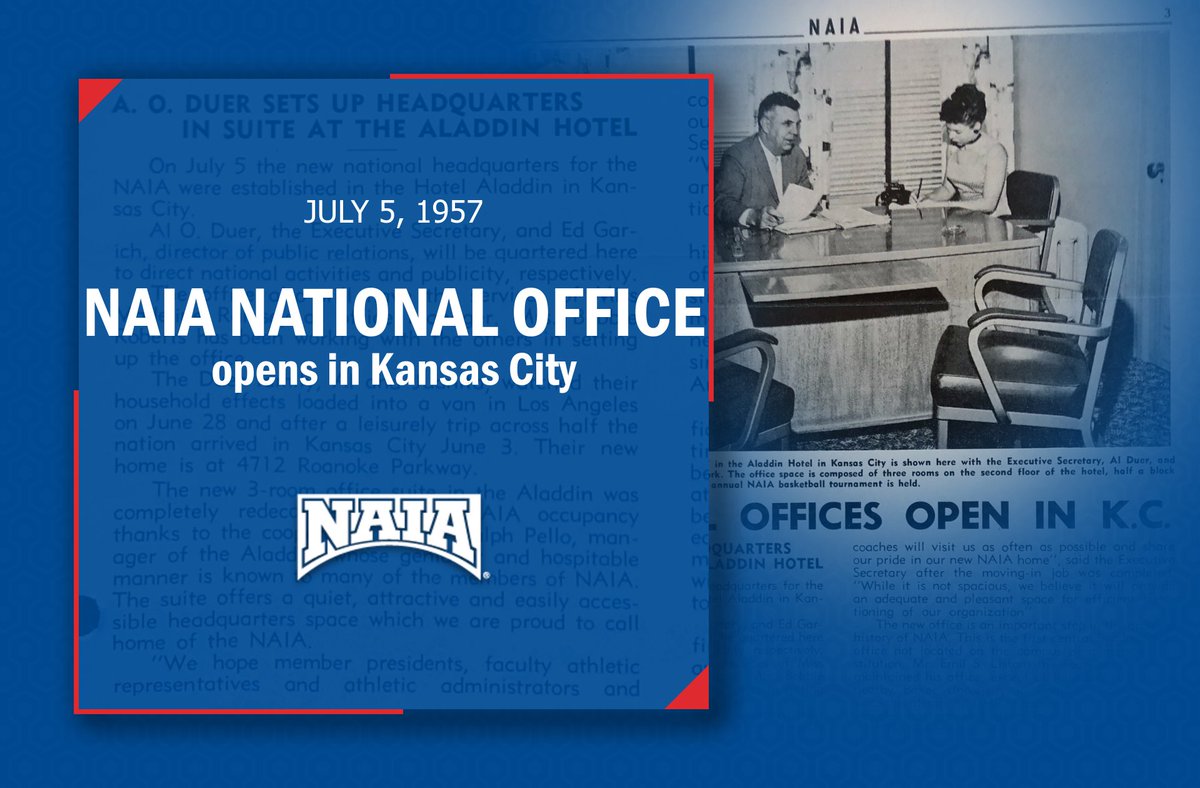 1957 - NAIA Home Office in KC
The NAIA finally had a home of its own on July 5, 1957, when the new NAIA National Office opened at the @AladdinHotelKC in Kansas City, Mo. The NAIA executive offices were previously located on the campus of George Pepperdine College in Los Angeles.
---
1957 - Tennessee State Wins
In 1957, Tennessee State beat Southeastern Oklahoma 92-73 to become the first historically black college to win a collegiate basketball national championship. Tennessee state wins the title again in 1958 and 1959 and is one of only two NAIA schools to win three years in a row.
---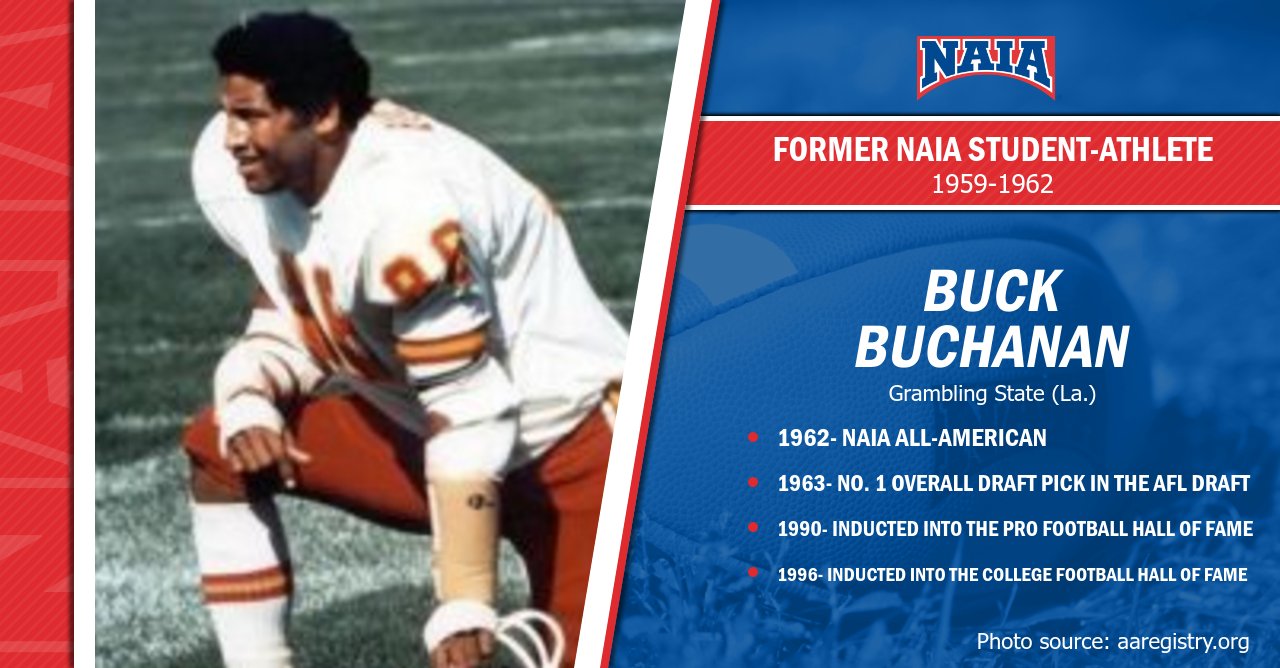 1962 - Buck Buchanan
Before Buck Buchanan became a legendary NFL player for The Kansas City Chiefs, he was a standout defensive lineman for Grambling State University (former NAIA school). Buchanan played for Eddie Robinson and the GSU Tigers from 1959-1962 and was named NAIA All-American in 1962.
---
1972 - Eddie Robison
Eddie Robison, the legendary Grambling State football coach, served a one-year term as NAIA President in 1972-73. As a coach, Robinson had 408 wins and produced 200+ players that went on to play football in the NFL. Photo sources: https://bit.ly/2QrlrLq & https://bit.ly/2QvSjmj.
---
1975 - Men's Basketball Tournament moves to Kemper Arena
In 1975, the men's basketball tournament was moved from the Municipal Auditorium to Kemper Arena. While still in Kansas City, it marked the first time since 1937 that the tournament had been held in a different arena. Photo source: https://bit.ly/3aj4dHU
---
1975 - Walter Payton
Walter Payton was a standout running back for the Jackson State Tigers (former NAIA school) and an NAIA #AllAmerican before he was drafted in 1975 by the Chicago Bears. Payton went to have an outstanding NFL career and was inducted into the Pro Football Hall of Fame in 1993.
---
1980 - Women's National Championships added
In 1980, the NAIA became the first collegiate athletics association to sponsor BOTH men's and women's championships by adding championships in:
basketball, cross country, golf, gymnastics, indoor track & field, outdoor track & field, softball, swim & dive, tennis and volleyball.
---
1985, 1986, 1987 - NAIA Players in the Pros
Throughout NAIA history, former NAIA student-athletes have gone onto careers in professional sports, and that includes Terry Porter '85 University of Wisconsin-Stevens Point, Dennis Rodman '86 Southeastern Oklahoma State University and Scottie Pippen '87 University of Central Arkansas. #NAIAPros
---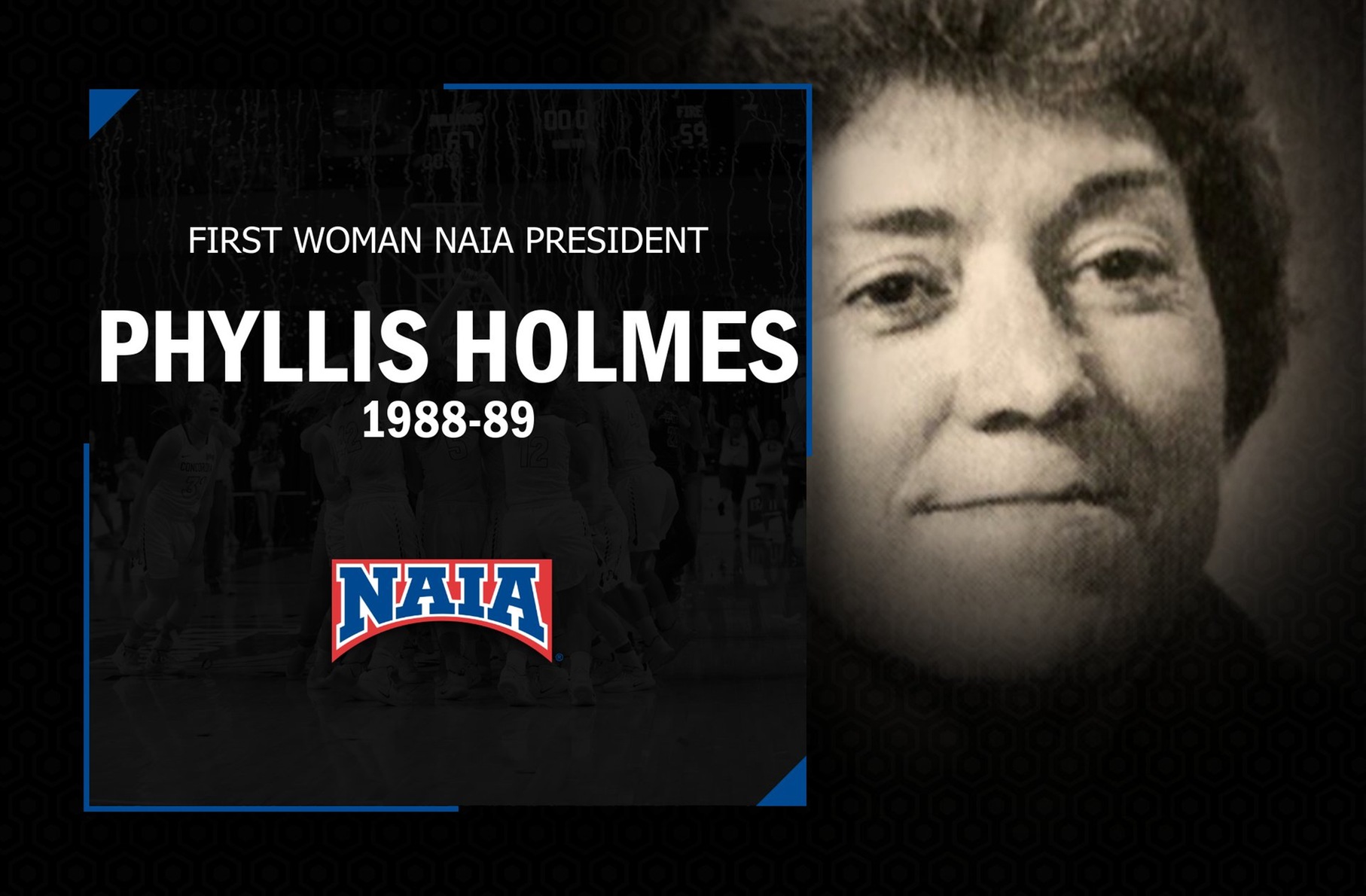 1988 - First woman to be elected NAIA President
Phyllis Holmes made history as the first woman to be elected NAIA President in 1988. Holmes coordinated the first NAIA Women's Basketball Championship and also served as an assistant coach and manager for the women's USA Basketball team. She was inducted into the Women's Basketball Hall of Fame in 2001.
---
1993 - NAIA National Office moves to Tulsa
On August 1, 1993, the NAIA National Office moved from Kansas City, Mo. to Tulsa, Okla. The men's basketball tournament also made the move and was held in Tulsa for 8 years (1994- 2001).
---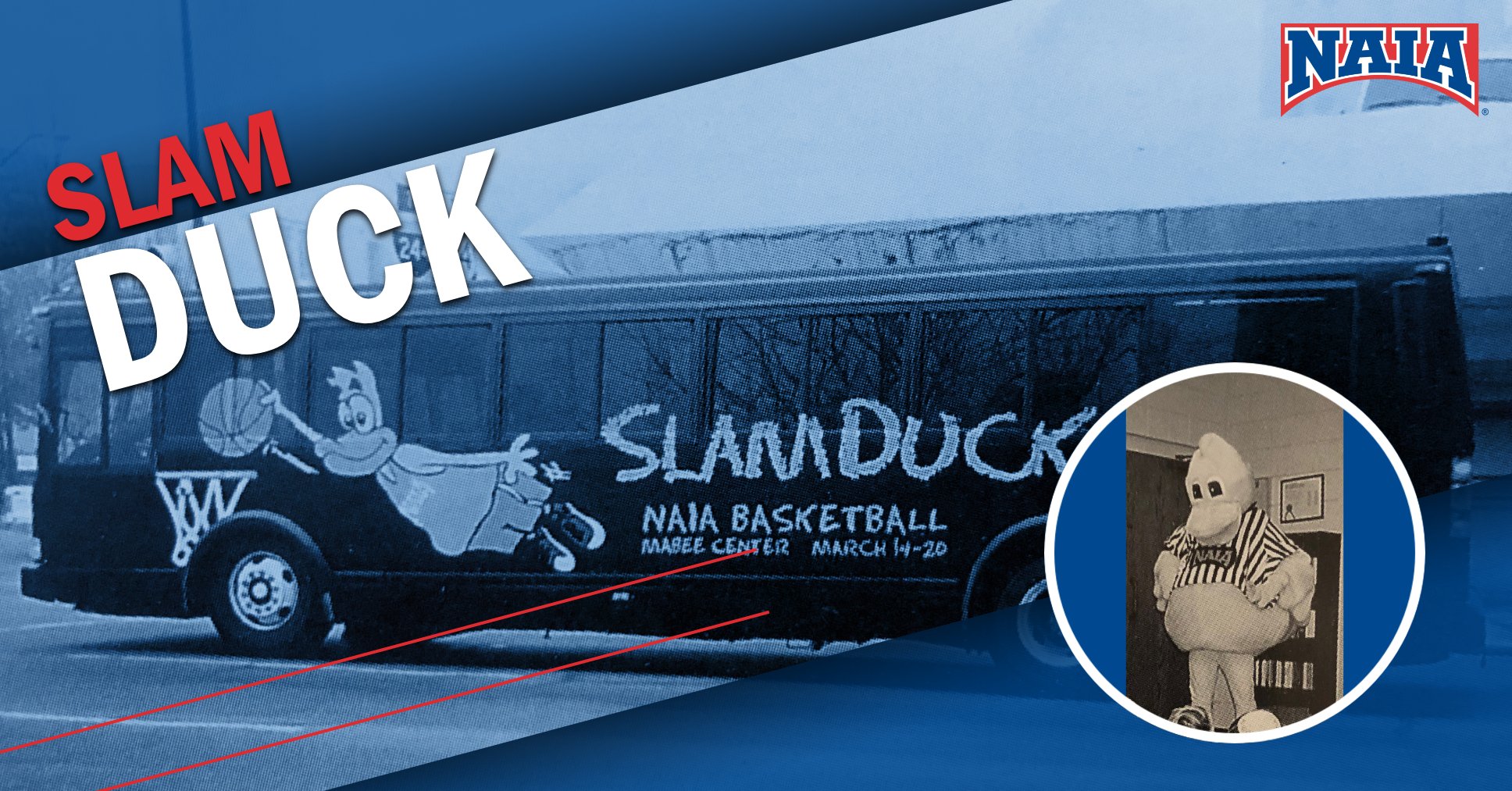 1994 - NAIA introduces their new mascot, Slam Duck
Slam Duck was revealed to the public on October 30, 1994, at a local mall in Tulsa. Slam Duck promoted scholarship, sportsmanship & leadership to children throughout the community.
---
2000 - The NAIA introduces the Champions of Character® program
In 2000, the NAIA introduces the Champions of Character program, emphasizing character development among NAIA student-athletes. The NAIA seeks to create an environment in which every student-athlete, coach, official and spectator is committed to the true spirit of competition through five core values.
---
2001 -NAIA National Office moves to Olathe, Kan.
In July 2001, the NAIA National Office relocated from Tulsa, Okla. to Olathe, Kan., which also brought back the NAIA Men's Basketball National Championship to its original home, Municipal Auditorium; the arena that was home to so many memories from 1937-74.
---
2007 - The NAIA Men's DI Basketball tournament Semifinal Game
In 2007, Concordia (Calif.) outlasted Robert Morris (Ill.), 124-119, after three buzzer-beaters and four overtimes in the 2007 NAIA Men's DI Basketball tournament semifinal. This game is the second-longest in NAIA tournament history.
---
2007 -NAIA National Office moves to Downtown Kansas City, Mo.
In 2007, the NAIA National Office moves from Olathe, Kan. back to its original home of Downtown Kansas City. The NAIA headquarters is an active participant in the Kansas City area and still resides in the downtown area of Kansas City.
---
2010 - The NAIA opens the NAIA Eligibility Center
The NAIA opened the NAIA Eligibility Center in 2010, where prospective student-athletes are evaluated for academic and athletic eligibility. Congrats to 10 years of serving NAIA members, guiding student-athlete success and ensuring fair competition.
---
2014 - NAIA Showcase
In 2014, the NAIA becomes the only college athletics association to offer official recruiting events. NAIA Showcases are one-day recruiting events where prospective student-athletes can showcase their skills and connect with NAIA coaches.
---
2016 - Competitive Cheer & Dance is added as NAIA National Championships
In 2016, Competitive Cheer & Dance is added as NAIA National Championships, making the NAIA the first collegiate organization to sponsor a national championship in this sport.
---
2018 - The NAIA launches Return on Athletics® (ROA)
The NAIA launches Return on Athletics®(ROA), in 2018, as its approach to the management of collegiate athletics. ROA distinguishes the NAIA from its competitors by aligning athletics with the priorities of our members, specifically enrollment, student success, & financial viability.
2020 - NAIA National Offices moves to a larger space in Downtown Kansas City, Mo.
For the first time since 2007, the national office will not call 1200 Grand home. The NAIA moved to 12th and Wyandotte in the Twelve Wyandotte Plaza, where it occupies the seventh floor. For a virtual tour, click here.
---