NAIA Campus Character Liaisons/Administrators
Each NAIA institution has a Champions of Character® Liaison who implements the program.
Character Education
Ongoing training and professional development for coaches, athletics administrative staff and student-athletes
Hospitality & Game Management
Oversight of athletics events including Conduct in Competition Guide

Share the Character Message
Organize a servant leadership activity characterized by student leadership and athletic community engagement
Develop Champions of Character outreach activities in your community; partner with a local school or organization to deliver the core value message
Conduct at least one student-led, servant leadership activity.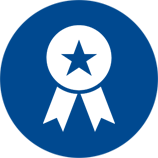 Promote & Recognize Character
Oversight & Assessment
Implementing campus plans
Understand the Champions of Character Scorecard requirements and input Scorecard data in NAIAHelp.
Use the Scorecard to identify areas that need improvement; review ejection and suspension reports to address areas of concern.
Video Series
Click here to download MP4s of the following webinars:
Campus Character Liaison Role and Responsibilities Webinar (August 10, 2016)
Champions of Character Great Institution Ideas Webinar (August 17, 2016)
Actionable Items of Champions of Character Conference Committees Webinar (August 24, 2016)