Favorite Memories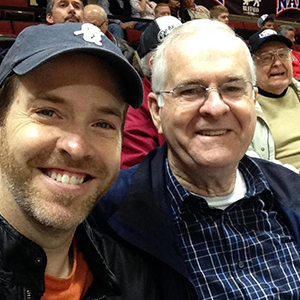 David Anders
"My father, Hugh Anders, used to take me to the NAIA Tournament when I was a little boy in the 1970s. It was a magical father-son experience that brought us closer and ignited my love for basketball...
Read more
Now, some 40 years later, my father and I have resumed the tradition, attending the tournament consistently for the last several years. We love the passion, character and competitiveness of the student-athletes and enjoy picking a team to root for each year. The tournament represents wonderful memories for us that will last our lifetimes."
---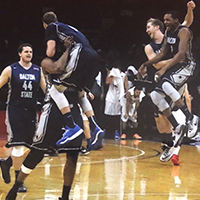 April Ross
"Dalton State College became eligible for the NAIA National Tournament in 2015. That same year we won it. I loved it that year and every year since...
Read more
>The atmosphere is phenomenal, with the best games played that consist of 32 teams nationally of college ball in one gym.

I have been there with or without Dalton State attending every year since, because I'm a diehard basketball fan! You get all the basketball under one roof that you will ever want (32 games in 6 days). I encourage everyone to come experience it all this year. It's a once-in-a-lifetime experience for basketball lovers."
---
Noel Bates
"My greatest memory was when I was a teenage boy in high school I came to the tournament and saw Oklahoma Baptist play and they had a player named Tucker, as I remember, that was an unbelievable shooter. He scored 60+ point that night and I was astonished! I couldn't believe anyone could shoot like that. This was in the 1960's...
Read more
>One other highlight for me as a teen was when St. Benedict's from Atchison, KS won the tournament when you couldn't dunk the basketball.

I attend year after year because I love basketball and I can go see many good teams play without a dog in the fight, which means I can sit and just enjoy good play without all the nerves.

The NAIA is special for me because it gives my brother and I a week to get together each year and enjoy our favorite game and each other. He brings the train in from Gallup, NM and I drive up from Chanute, KS and pick him up at Union Station on Wednesday morning and we head to Municipal Auditorium for a week of great fun! One of the best weeks of the year.

I came to the NAIA tournament the first time back in 1962 or 63. Our coach from Lansing High School brought the varsity team down to the tournament each year. I attend a few times after high school and then moved away. Since I've moved back to Kansas in 2012 I've been there each year. My brother and I have attended the last four years together and look forward to March this year. I've probably attended 10-12 total tournaments and hope to each year from now on as long as I can. Love the tournament and so enjoy being there.

If you love basketball and enjoy watching it, this is the place you need to be. You can see great teams and players from all over the country and it is nearly non-stop for several days. It's the real fix for a basketball junkie! Come and see for yourself."
---
Paul Easterday
"My father started taking my brother and me to the tournament in 1969. My grandfather had a farm in Hamilton, Mo., and we drove back and forth everyday to attend the tournament at Municipal...
Read more
>If I recall properly Eastern New Mexico was the winner that year. I have been to the tournament every year since, even the terrible years in Tulsa. So I guess this will be my 50th year anniversary. It's been a family affair for our family for many years.

This year my brother from Baltimore, his son from Wilkes Barre, Pa., my daughter, her husband and son from Columbus, Ohio, and my wife and I from St. Louis will be attending the tournament. My daughter Lauren, who is 33, has not missed a tournament since she was born except in 2017 when her son was born on the first day of the tournament on March 15. Her son will be at the tournament for a few games this year. At age 2 he loves basketball already.

Photo: Paul's grandson celebrating his one year birthday and first time at the tournament.

My parents are no longer able to attend the tournament but still live in the Kansas City area. We look forward to the tournament every year as we have met many wonderful people and get to see them once a year and see how their lives are going."
---
Larry Buessing
"My first NAIA experience was in 1953. Coach Joe Dourherty took all basketball players from Baileyville high school for an overnight at the YMCA. The cost was $1 per night for all of us in a dorm room. A pillow fight ended with feathers all over our bunks...
Read more
>Bevo Francis was the featured player and the coach knew all his stats. We stayed all day, left at halftime of last game, and drove 150 miles home. This was the one of the few times many of us missed milking and doing chores on our farms."
---
Derek Wiesemann
"My favorite NAIA memory comes from the year 2014. First off I attended a member school of the NAIA, Freed-Hardeman University (graduated in 2011). So any time they were in the tournament I went...
Read more
>Anyway in 2014, I was decked out in all of my FHU gear, even had a bright gold jersey to wear. Just before warm-ups happen one of the workers of the tournament came up to me and asked if I would like to be on court for Freed's introductions. Obviously I said yes. I still knew several members of the team so that is really neat to see them in to be able to high-five them before their game."
---
Beverly Pendelton
"I look forward to seeing the parade of champions each year. Something magical seeing all 32 teams cover the basketball court."
---
Do you have an NAIA Basketball memory that you would like to share?